Gauteng

ANM Auditors is committed to helping you achieve your financial success by devoting time and attention to you that they believe you deserve. Because of their firm's structure, they have the unique ability to offer the expertise and professionalism of a large accounting firm combined with the personal attention of a small firm. They have many years of combined experience, and continually invest in developing their knowledge and experience in areas necessary to serve you with excellence. They are pleased to offer off this experience to further your goal to financial success.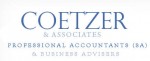 Coetzer & Associates is registered with the South African Institute of Professional Accountants. The firm is also registered Tax Practitioners and Business Advisors, and serves small to medium enterprises across South Africa. Their client base spans through all sectors of the economy.
Their professional team creates a cohesive and integrated environment for each specific engagement, maximising the interaction with their clients to achieve exceptional results. Their approach focuses on the needs of the company's stakeholders.
They incorporate dynamic methods that are at the forefront of the consulting service industry, resulting in efficiencies and consequently leading to the minimising of costs. They address specific circumstances and risks through effective planning and project management. They are committed to pioneering inventive and effective solutions.
Their commitment to care for their clients and their businesses is strongly reflected in the loyalty their clients show them.
They provide the same diligent and personal service to everyone they are engaged with. A versatile blend of personal attention coupled with huge resources and experience positions them uniquely in South Africa.